December is very much about celebrating Christmas, here are some tips for decorating your house with colourful foliage, getting the best from your Christmas tree and jobs in the garden to carry out, weather permitting!
Christmas tree care
Just before taking your tree indoors cut off two inches from the bottom of the main stem, then as soon as you have your Christmas tree in position and secured add some water to the stand, cut the net and remove gently from bottom to top, leave your tree for a few hours to allow the foliage to sit down before decorating.
Your tree will drink water each day which helps avoid the dreaded needle drop and also stops the branches from turning brittle, top up the water every day and never let it run dry.
Position the tree away from radiators and open fires and choose a needle retentive variety such as Nordmanniana or Nobel fir.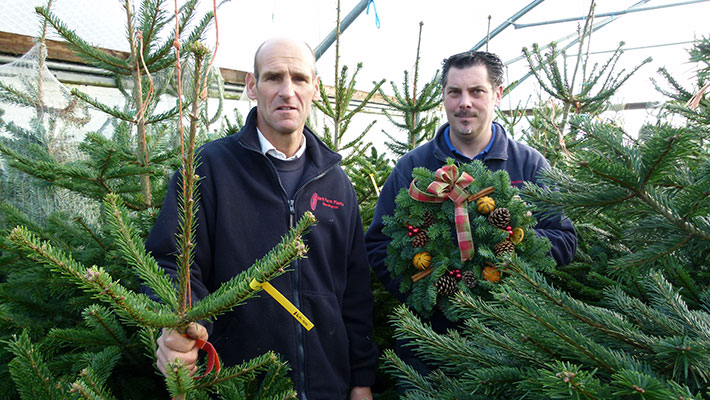 Decorating your home
Make use of the evergreen foliage that you have available in your garden to decorate your home.
You can cut berried holly for vases, and use laurel, eucalyptus, euonymus, ivy in wreaths or table decorations. If you would like us here at Barn Farm Plants to make a holly or spruce wreath for you then please call in and choose your fruits, nuts and ribbon and place your order.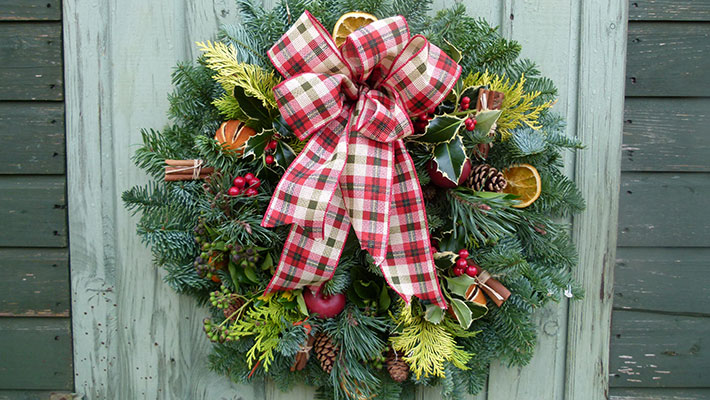 Planting and Pruning
Cut down any dead autumn flowering perennials marking their whereabouts with a cane.
Prune stems of autumn fruiting raspberries and winter prune apple and pear trees applying a pruning compound to stop disease getting into the cut.
Cut wisteria side shoots to within 15cm of their base.
Continue planting fruit and ornamental trees, fruit bushes and roses, transplant any existing shrubs and conifers making sure that you tread in well when replanting and support with a cane or stake, add a sprinkling of bone meal to the hole for instant feed.
Garden Maintenance
Use bubble polythene or hessian sacks to wrap your outside tap, this will stop it freezing up and remember to drain hosepipes of water.
Clear pathways and decking of moss, lichen and leaves, damp conditions increase slip hazards dramatically.
A good decking brush and scraper will lift the surface dirt and then scrub with a stiff broom to remove surplus debris.
Fleece all tender plants and terracotta pots to protect them from frost damage. Raise pots off the floor with either pot feet or bricks which allows the air to circulate around the pot and avoids it sitting in water thus cutting down the chance of the pot cracking.
Do not use bubble polythene to protect plants as it makes them
sweat and they become more susceptible to frost damage, fleece is great because it allows the plants to breathe.
Remove pond pumps and filters, clean and store away, but replace with either a pond heater or float a ball on the surface to stop water completely freezing over.
Make compost from spent crops and use old gro- bags and container compost to invigorate your borders or vegetable plot.
Sharpen blades on secateurs, loppers, hoes and other garden tools and wipe with an oily rag before packing away.
Birds
Make sure a fresh supply of water is available and it does not freeze over, you can do this by putting a small ball in the birdbath dish. Increase the feeding of high fat foods such as suet treats, and a plentiful supply of peanuts, seed and mealworms should be made available.
Bird dining stations are a great way to feed and view birds in your garden, why not treat a friend or family member to one for Christmas, they make an ideal gift.
Lawns
Ask the children (and adults) to keep off the lawns when they are frosty, constant walking on the grass will damage it.
If areas are waterlogged aerate it with a garden fork.
Plant of the Month
Poinsettia: Every living room should have one! This plant simply shouts Christmas… the traditional red bract variety is still by far the best, but salmon, pink, yellow and speckled varieties are also available and all make excellent gifts. Just remember to position them away from draughts in a warm room with plenty of light and they will thrive well into the New Year and beyond.
Tip of the Month
Work off Christmas excesses by putting on your wellington boots and winter coat and digging over the vegetable plot and any bare areas of ground, add some farm yard manure if you have it available.
The late winter frosts will then reward you by breaking the soil down further giving you much improved soil to work later in the season.
Happy Gardening
Craig