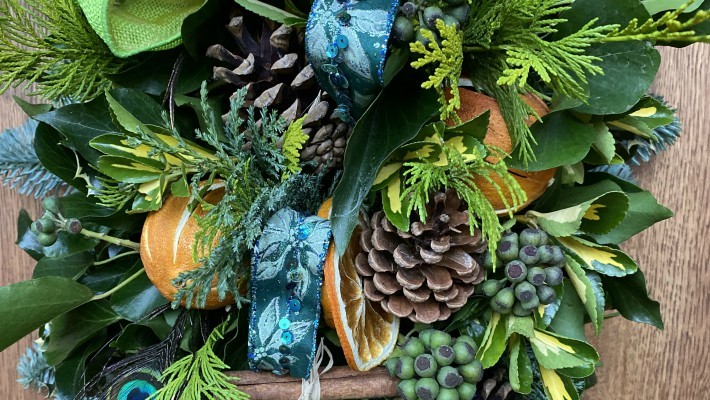 With all of the festive trimmings, it is great to add some natural christmas decorations for a special personal touch. It can be great fun to get outside and start picking natural decorations to make in to your own. Not only will you be getting outside in the fresh air but you can then get home and decorate your rooms with pine cones and sprayed twigs while warming up with a tasty hot chocolate.
Get some fruity natural christmas decorations
Make your own eco-friendly christmas tree decorations that can be tossed in the compost heap after the festive season. Dry some oranges, apples and tie them up with cinnamon sticks as well. They will smell fantastic hanging on the tree for an authentic, Christmas feeling. Easy, cheap and quick to make plus great fun for kids to join in as well.
Make the perfect natural christmas decorations with a fragrant herb wreath
For a lovely festive project, why not collect lots of natural materials and make them into your own christmas wreath, to hang on the front door or even inside the home. From holly to hydrangea heads plus dried fruit and shimmery ribbon, you can go to town and create something full of personality. Alternatively, go minimalist and create a simple wreath or spend some time carefully pinning in some succulents for a stunning twist on an original wreath. Which ever you choose, it will be fun to make and is an easy way to both enjoy the outdoors and indoors on one project.
Add some sparkle in to your Christmas decorations and have a look at our christmas shop in store.